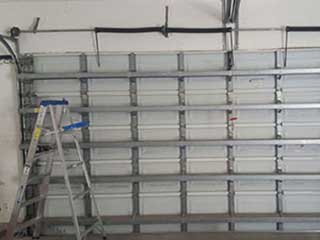 A lack of garage door maintenance is one of the leading causes of sudden and unexpected breakdowns. If you take care of your door it'll last for many years, but if you don't take the time to have professionals inspect and maintain it, you run the risk of developing major faults as time goes by. We strongly recommend arranging regular service appointments at least annually to ensure your door is kept in optimum working condition. Now, you may ask yourself, "how can I find garage door repair experts near me?". Well, good news. You already did. Garage Door Repair Bothell is here to provide all the help you could possibly need.
Regular Inspections & Services
Your garage door works hard. Over the course of a single year, a busy household might use their door more than a thousand times. This heavy wear and tear puts a lot of strain on the system and means that small faults can easily develop into larger ones if they're not taken care of quickly. That's why it's essential to book regular service inspections, to prevent minor problems from snowballing into larger issues.
Annual Inspection Visits
Many brand name manufacturers in the field provide lifespan estimations for the various parts in the system - but in reality, the lifespan will vary according to upkeep and daily use. Without an annual service inspection as a minimum, you may find certain components wear faster than the timeframes outlined by the manufacturers.
Preventing Unexpected Failures
When a problem stops your door from functioning, it can be both inconvenient and costly. It's always preferable to prevent these problems from developing in the first place – preventative maintenance will allow our specialists to catch issues as they arise. In our experience, many garage door breakdowns can be traced back to moving parts that have fallen out of alignment, joints that have run out of lubrication, or bolts that have worked loose over time, all preventable issues. Our team will handle any minor problems then and there while they're easy to solve, saving you the hassle of arranging repairs in the future.
Identifying Broken Parts
In some cases, it may be necessary to replace parts of the door system. Our technicians will carefully assess the condition of the various components and advise you as to whether or not they should be replaced.
Get Help From Your Nearby Service Experts
We strongly advise all homeowners to invest in regular professional maintenance. Our team at Garage Door Repair Bothell will make sure your door keeps working smoothly and reliably for a long time – contact us today!
We also offer the following:
Oil Tempered Torsion Springs
Garage Door Safety Inspections
Emergency Garage Door Services
Opener Sensor Repair & Replacement