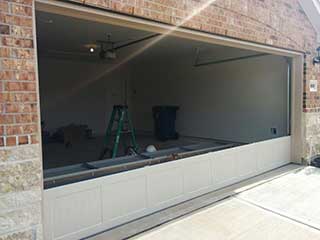 Garage Door Repair Bothell deals with anything from worn springs to broken door panels. If you're a local homeowner looking for a garage door company to lend you a hand, look no further. With us, you get same day repairs for mechanical and electrical problems. Opener troubleshooting and spring replacements are a daily routine for us. Many homeowners in the nearby area have used our services in the past, and many continue to do so each day. You can always get a fast fix by turning to a Garage Door Repair Bothell.
Garage Door Not Opening
If your tracks are dented or blocked, they can cause the garage door to move unevenly. It can also make it not open at all. Similarly, loose brackets or bolts, or excess rust can prevent the rollers from moving smoothly along the tracks. If a generally clean and lubrication does not resolve the issue, there may also be a problem with one of your garage door springs. If one wears faster than the other, this can cause misalignment and a door that moves unevenly. The technicians at Garage Door Repair Bothell specialize in solving these sort of issues. Regardless of why your door isn't moving smoothly, it will get fixed and return to its proper 'flow'.
Broken Spring Repairs
Garage door springs will break after a while. It's a fact. Depending on their dimensions and quality they can have shorter or longer lifespans. But at the end of the day, all garage door spring types will eventually break. They'll also wear out gradually, which can give you a heads up. If a garage door spring broke all of a sudden, remember that these parts are dangerous to handle with the DIY approach. A broken spring requires a certain level of experience and skill to safely replace. The safest course of action is to leave garage door spring replacement to a nearby professional. A repairman from Garage Door Repair Bothell can get to you on the same day you call. When faced with broken springs, remember to make the smart choice and opt for professional repairs.
Garage Door Off Track
When the garage door gets stuck or a roller pops out, trying to keep using the door can be dangerous. You'll want to avoid risks. An average garage door weighs upwards of two hundred pounds. Image that thing falling on you. Not good. Repairing garage door track damage is another specialty of ours. The tracks serve as a guiding system for the overhead door, but when they're bent or misaligned, they'll really give you some problems. A garage door off track scenario puts extra strain on the system, and is a major annoyance to boot. Leave it to Garage Door Repair Bothell to get the rollers back inside the tracks and the door moving again in no time at all.
Look After Your Automatic Garage Door
Some upkeep is required to get the most out of your garage door system. It's important to lubricate the moving parts, and make any tension adjustments as needed. This applies to garage door springs, opener chain drive, and also to lift cables. The weather seals also need inspection and the occasional replacement if you want to ensure your garage stays protected from the outside hot/cold. Garage door repairs are important, but so is taking good care of the system afterward.
Is Your Garage Door Secure?
You can always add additional features to ensure maximum security for your property. It's possible to add alarm systems that alert you each time a person tries to illegally access your garage. Further, modern sensors can be fitted so that they light up whenever someone is in the vicinity – a great option for protecting your premises at night.
Local Garage Door Repair Pros
When a problem arises, you need help to arrive quickly. That's why Garage Door Repair Bothell offers same day services on a daily basis. From garage door spring repairs to opener troubleshooting and track adjustments. Any task you need completing is available at a moment's notice. Anyone near the Bothell area has a go-to garage door company they can turn to when problems crop up. The same day garage door services are available 7-days a week. Know that there's always someone ready to come to your aid when you need it.
Garage Door Experts Near Your Area
Whether you're on the hunt for garage door repair services you can trust or need assistance choosing a new door, Garage Door Repair Bothell is a short phone call away from you. Get in touch with us for same day repairs and see to it that your overhead door returns to its problem free state.
Some Helpful Tidbits
My garage door won't open all the way. How come?
Figuring out why a garage door won't move up fully takes some troubleshooting. This could be the result of damage or blockage in the tracks, some problems with the rollers or even worn or broken springs or cables. Alternatively, the garage door opener may be at fault. Check the travel limit and see if it's calibrated correctly. Sometimes a door will only travel to a certain point because it's travel limit restricts its movement. If you have a LiftMaster or Chamberlain garage door opener model, your owner's manual may have instructions on what to do with certain error messages. If you suspect the issue to be a hardware malfunction, don't attempt any DIY repairs and let professionals handle things, so as not to get hurt.
Why is my garage door not closing?
A garage door that reverses when you want it to close may have misaligned safety sensors, or problems with the tracks. The photoelectric eye sensors are positioned near the bottom of the vertical track sections, and they're there to make sure your door doesn't close on an obstacle. Misaligned sensors can have what's called a 'false-positive', meaning they mistakenly identify an obstacle. The garage door opener then reacts accordingly, and reverses the door's movement. Alternatively, blocked tracks, or bent sections, can impede the movement of the garage door rollers. This will lead to the door trying to close but then reversing when it experiences prolonged resistance. Get in touch with us to have a professional technician look at your door and fix what's wrong with it.
Garage Door is broken. Now what?
Depending on the extent and nature of the damage, you will probably need one or more components replaced. In some cases, a broken garage door can be restored just by replacing one or more hinges and panels, or installing a new opener or springs. In more extreme breakages, you may need a new garage door installed. There's a wide range of options to choose from, so be sure to consult with professionals to figure out what garage door is best for your needs.
When it comes to your door, we don't settle! We also offer:
Garage Door Off Track Repair
Garage Door Tune Up Services
Screw Drive Opener Replacement
Garage Door Extension Spring Replacement