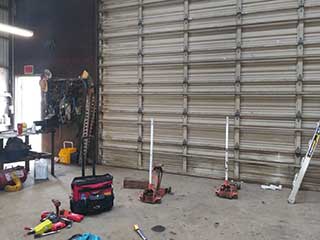 Naturally, when you think garage door service you probably have a specific image in your head. It might involve replacing broken springs or working a wrench around to tighten or loosen some garage door parts. Well, both of these would be true, as this is just a general term aggregating all sorts of relevant issues and the solutions applied to resolve them. So what can garage door service include? Pretty much anything you can think of, really. But here are some specifics:
Service With a Capital S (For Speed)
There's no shortage of potential automatic garage door problems you and every Bothell homeowner can come to experience over time. The older the door, the more likely it is to malfunction due to this problem or that. When things go wrong, you want help to arrive not in a week from now, not tomorrow, but right now, ASAP. Seeing as there are a great deal of moving parts involved in the operation of such a system, it's not surprising that the range of potential issues that require professional garage door service attention is quite varied. Here are some things you can expect to deal with and what's likely to cause them:
Broken Springs – don't you just love those? Clearly, not. That was a joke. A broken garage door spring is more than a nascence, it's a real annoyance, aggravated by the fact that it can be dangerous to handle without knowing exactly what you're doing. Wear and tear is the major contributor to this type of problem, which is why spring maintenance can help extend the useful life of these units.
Door Won't Close – another common problem, with a plethora of potential causes. From misaligned safety sensors to blocked tracks. If you find that your door refuses to move down after opening, the potential culprits aren't always easy to identify. That's where professional troubleshooting services come in handy.
Opener Won't Run – hurrying to get to work in the morning only to discover that your garage door opener suddenly refuses to start is not something anyone wants to experience. Unfortunately, that type of problem isn't as uncommon as it ought to be. It often results from electrical issues and lack of proper maintenance.
Garage Door Off Track – this one's pretty self-explanatory, as the door will literally come off its track. Often the track in question can be at fault, with bending and rust being common culprits. An accumulation of debris that creates a blockage is another potential cause. Rollers that aren't lubricated properly or have been damaged extensively can also lead to this problem.
Unbalanced Garage Door – seeing your door only open partway and failing to hang in the open position is almost always a problem that requires spring tension adjustment. Not a task you'd want to attempt to do on your own, as garage door springs are notorious for being dangerous to handle without experience and training.
Improper Garage Door Insulation – it can be hard to realize this is the problem with your door, as it's not necessarily an obvious deduction. Whether it's the weather-stripping material or the panels themselves, with a garage door insulation kit (applied correctly by professionals of course) you can improve the thermal efficiency of the interior.
Naturally, There's More
Garage door problems don't end here, of course. Those are just some of the more common issues you can expect. Remember, though, that with proper maintenance you can make your door system last a lot longer and avoid a great deal of trouble. Most of these issues, if not all of them, should be handled by expert garage door service technicians with the right set of skills and experience to repair, realign, and replace whatever's required. Garage Door Repair Bothell is never too far to provide same day service to any nearby homeowner. Get in touch with us whenever you find yourself in need of assistance.