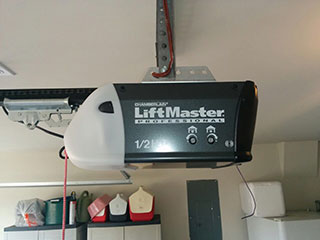 Many things can go wrong with an electric garage door opener system. After all, this device utilizes many parts and gets used at least twice a day on average. As far as garage door opener repairs are concerned, your smartest and safest option is to seek professional assistance. If your garage door opener is not working all of a sudden, there are all sorts of reasons for this. Figuring out what's wrong and/or fixing the problem may require some skills and experience. But don't worry. Garage Door Repair Bothell has nearby experts who can help troubleshoot your opener and fix the problem.
When Your Opener Is Not Working
As a first step, it never hurts to double check whether or not the opener is connected to the power source. If you don't have a backup battery and the power goes out, the garage door opener will not open or close the door like it's supposed to. If it seems to get power but your garage door remote is not working, check the remote batteries first. Once you ruled these to potential causes out, you need to do some basic troubleshooting. Before garage door opener repairs can start, you first need to figure out what's wrong.
Identifying The Problem
The first task is always to determine the origin of the problem. Since the garage door opener system contains a sensor reverse mechanism and a limit switch, these two functions should be checked first. It can be difficult to ascertain exactly where the problem lies. An automatic garage door opener is a complex device with both mechanical and electrical components. Your owner's manual should have some basic tips on finding problems, but if you need proper garage door opener troubleshooting services, it's best to contact an expert. Garage Door Repair Bothell has the nearest pros who have years of experience solving all sorts of opener problems. Feel free to always get in touch with us if your opener is not closing or opening the door properly.
Understanding The Limit Switch
The limit switch makes sure the overhead door opens and closes all the way. So, when the door fails to reach its full closing or opening position or seems to slam shut - the problem may be connected to the limit switch. Consulting your owner's manual should instruct you on how to adjust the opener travel limit. If you're unsure as to how to do this safely, leave it to professionals.
The Sensors & Reverse Mechanism
The reverse mechanism will be activated even if so much as a few tree sticks are found under the door. In such cases, it is worth checking that the floor and sensors are clean. Dirty sensors can cause a door to open up again because they think there is an obstruction in the path of the door.
Check The Motor Gear & Electric Components
If your opener has started to become a lot noisier, this could indicate a failing motor gear or a problem with the electrical circuit inside the opener. If you suspect either of these two things to be the issue, you should contact our specialists right away. If your gear completely fails, your opener will stop responding. Problems can also occur if wires have accidentally been cut or if the communication between the opener and clicker has been lost.
Garage Door Opener Replacement
Sometimes it's not a problem you need help with. Sometimes there comes a time for you to replace your old opener with a new modern model. It's not a matter of if, but a matter of when. Garage door opener installation is definitely a project you'll want to leave to the pros. Doing this incorrectly can lead to a lot of problems down the line. New garage door opener models have all sorts of innovations you can benefit from. This ranges from backup batteries to WiFi control and remote operation. New openers also offer enhanced security, with rolling code technology and various other features. From LiftMaster openers to Genie and Chamberlain chain and belt drive units, you have quite a selection to choose from. Make sure to have your new garage door opener installed by experts to ensure it works flawlessly from day one.
Nearby Opener Repair Experts At Your Service
If you need help with an opener problem, Garage Door Repair Bothell has you covered. But there's more you can use our services for. If you're looking to get a new garage door opener installed, consult with us on available models and costs. We provide low and affordable opener installation services and expert consultation regarding the pros and cons of different models and brands. Contact us for help anytime.
Commonly Asked Questions
Why is my garage door opener remote not working?
If your remote doesn't seem to be working, try changing the battery. We're not joking. You'd be surprised how many times that's all it takes. Of course, there are plenty of other reasons why your remote doesn't work, this is simply the basic and most obvious one. If replacing the battery doesn't work, check to make sure the opener is functioning by trying the wall switch. If the opener works via the switch and you've changed the battery in the remote, then you may need to replace your remote. If the opener isn't working even when you use the wall switch, then some expert troubleshooting is necessary.
What are some useful garage door opener troubleshooting tips?
If your garage door opener seems to be acting up, there are a few things you can try to get it working again. Make sure your door is in order by trying to open and close it manually. If this works, it's not the door and probably the opener that's malfunctioning. Check the wall panel switch. If your door works, then the problem is most likely with your remote. If not, you may need to check the power supply of your opener, or the drive system or internal components of the unit itself.
How does a garage door opener work?
A garage door opener uses an electric motor to push or pull the drive system. In turn, the drive forces the springs to compress or helps them to expand against the weight of the door. Most of the heavy lifting work is done by the springs, but the garage door opener still needs to be strong enough to catalyze and regulate their work. It uses a pair of sensors to know when there's an obstacle in the door's path. To avoid hitting said obstacle, the opener reverses the garage door when trying to close. It responds to remote handsets and/or WiFi compatible devices like smartphones, provided it has the right technological features to do so.
You can also count on us for:
Opener Sensor Replacement
Extension Spring Adjustment
Garage Door Tune Up Services
Broken Garage Door Spring Replacement