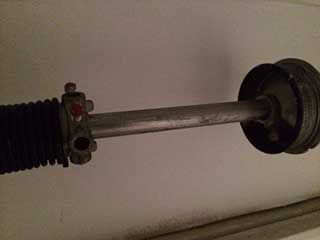 The opening and closing action of your garage door relies on a system of springs that utilize tension-based force in order to move the panels up and down. If the condition of these components deteriorates, or if they unexpectedly snap, the dangers involved in fixing or replacing them are very high. You should never try to handle these components by yourself, and instead always opt for a professional's assistance from nearby experts with skill and experience.
Two Types – One Goal
Torsion and extension springs are the two different types that are commonly used today. The extension type work by stretching when the door lowers, which causes them to become loaded with tension. They then use that tension and contract in order to pull the door up. Torsion springs use torque, which means they twist and unwind in order to help your door move. Both of these types can be incredibly dangerous, as they are under a lot of tension every single day.
Spring Replacement Done Right
When it comes time to replace a spring, whether because it broke or because it is getting close to doing so, the safest way to go is to have an experienced expert perform the procedure. Although broken springs are the result of a sudden release of tension, they are still dangerous after they snap, and your door could fall if you don't know what you're doing. Even if the component in question has yet to break, removing it and installing a new one in its place is still incredibly risky. Our technicians specialize in completing these types of tasks very quickly and effectively, without putting anyone in harm's way.
Maintenance Extends Longevity
The best way to keep these components in great condition and prevent them from overstraining and snapping prematurely is with regular maintenance. Our routine spring adjustment and lubrication services will make sure a lot of potential accidents won't manifest, and that your door is able to continue working optimally for as long as possible.
Your Local Service Team
Contact our Garage Door Repair Bothell if you need any type of spring related assistance. The help you need is not a whole county over, it's right here near you!
Need more? We also provide:
Belt Drive Opener Installation
Roll up Garage Door Maintenance
Garage Door Torsion Spring Replacement