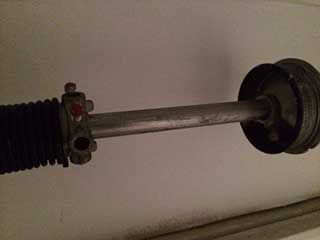 The opening and closing action of your garage door relies on a system of springs. These devices utilize tension-based force in order to move the panels up and down. If the condition of your garage door springs wears out, they may need tension adjustment. If a spring unexpectedly breaks, the dangers involved in fixing or replacing it are very high. You should never try to complete garage door spring repairs by yourself. Instead, always opt for a professional's assistance from nearby experts with skill and experience.
Two Garage Door Spring Types – One Goal
Torsion and extension springs are the two different types that are commonly used today. Extension springs work by stretching when the door lowers. This causes them to become loaded with tension, which they later use to pull the door up. There is always a pair extension springs (when they are used), one located on each side of the garage door. Torsion springs use torque and not stretching to help the door go up and down. This means they twist and unwind in order to produce the needed tension-based force. This makes them stronger, and they also tend to be larger than extension-type springs. Torsion springs are strong and flexible enough that often only a single unit is used for lightweight garage doors. Both of spring types can be incredibly dangerous, though. They are under a lot of tension every single day.
Garage Door Spring Replacement Done Right
When it comes time to replace a worn or broken spring, the safest way to go about it is to have an experienced expert do it. Although broken garage door springs are the result of a sudden release of tension, they are still dangerous after they snap. Your door could fall if you don't know what you're doing. If you have another spring, it too can end up breaking. Either that or the lift cables can snap. Even if the garage door spring in question has yet to break, removing it and installing a new one in its place is still incredibly risky. The technicians here at Garage Door Repair Bothell specialize in providing spring replacement and adjustment services. Leave it to us to handle these garage door parts without putting anyone in harm's way.
Spring Maintenance Extends Longevity
The best way to keep garage door springs in great condition and make them last longer is with regular maintenance. This includes torsion spring lubrication, which should occur at least every six months, if not sooner. Testing the garage door balance is also important. You can do this by opening the door halfway and checking if it can stay in place. If it goes up or down significantly, the springs need adjustment. Remember, though – garage door spring maintenance beyond lubrication can be dangerous, so let the experts handle it to stay safe.
Your Local Garage Door Spring Specialists
Contact Garage Door Repair Bothell if you need any type of spring related assistance. Whether it's a broken spring that needs repairs or a worn one that needs adjustments, leave it to us. Same day spring repairs available seven days a week.
Answers To Common Questions
How can I tell which type of garage door springs I have?
Torsion springs will be mounted across the top of your garage door, and coiled tightly around a metal rod. Sometimes only a single unit is used, as they are very strong and flexible. Extension springs will be pointing in the opposite direction, away from the door and across your garage ceiling, parallel to the horizontal tracks. They're often hooked to lift cables and fastened with security cables to keep them from flying when they break. There are always going to be two extension springs. Larger garage doors may have two torsion springs, and some models use both types simultaneously.
Can you open a garage door with a broken spring?
If a spring breaks, your garage door will usually lock in place as an automatic safety feature. Even if it doesn't though, you should avoid using the door as much as possible until you can get the spring replaced. Even if the door can still open, every use is likely to damage additional components without the spring to do most of the work and absorb the tension, and dangerous accidents are likely. Have the springs replaced ASAP. Neglecting to do this and trying to use the door (even if you can) will result in damage to other garage door parts.
How complex are garage door spring repairs?
Spring maintenance and upkeep is already a fairly involved process that requires training and skill to perform safely. Replacing a broken garage door spring is more labor intensive still, especially if your door has multiple springs. If one of them breaks, then the others are probably badly stressed and should be replaced as well. It's hard to stress enough how important it is to leave broken spring repairs to professionals. The dangers are real when it comes to this, and you'll want to avoid them 100%.
Need more? We also provide:
Belt Drive Opener Installation
Roll up Garage Door Maintenance
Garage Door Torsion Spring Replacement